Tips
7 Best features of macOS that you have to Try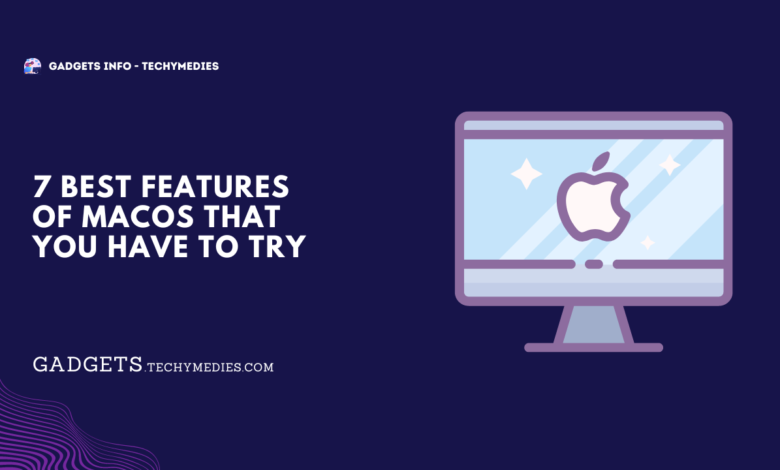 Although the Mac Lacks customization like Windows you can explore the number of features here. Yes, like on your Windows there are also several features to make your daily life better and ease with the macOS. Here we have mentioned the 7 best macOS features that you can try once.
macOS is a well-known OS for its software features. Here we can get the top-level features always than Windows. Compared to Windows the bugs are fewer in MacOS but features are limited. Beyond this, MacOS features are better and unique than Windows. Check out these cool features of macOS that everyone must try.
7 Best Features of macOS
macOS features a bundle of features which looks greater than Windows. At first, the OS is different and it lets you get a different User Experience than Windows.
Look Up
Look Up is one of the small but regular used apps or features in macOS. It is one of the best features that let Mac Users control different things at once. You can use these features to check out the meaning of the word directly in the pop-up from the online or offline macOS dictionary.
Accessing these features is easier using features by Force Clicking on the word.
Focus Mode
Focus Mode is another cool feature that lets Mac Users like you minimize the distractions by changing the notification settings. This lets your device minimize distraction by showing the notifications based on the different tasks.
Also, from the Settings or Control Center, you can take control of its settings. Here you can schedule these features as your need.
Screenshots
Taking the screenshots on macOS is amazing. Here you can capture the screenshot easily as per your requirement. Normally, Windows captures the screen as a full resolution of its screen. But in macOS, you can get control over it.
Here you can capture your full screen or selected area as per your screen requirements. Besides, these screenshots get automatically saved on your device.
Universal Control
Mac users can control their Mac and iPad easily with the same keyboard. Yes, it's that cool feature that you can't get in Windows OS. Using the Keyboard and mouse you can easily control the iPad for typing notes or texts on another device.
Here Apple had built that ecosystem to make universal control of their device easily. To control your iPad you need to place your iPad near the Mac and then you have to push the cursor of your Mac.
Spotlight Search
Getting the stored files in your Mac using these features is fast and time-saving. It's one of the well-known features to all Mac users through which they can take proper control over the data easily by finding them on time.
Besides this, Spotlight features let you run any apps, calculations and other features easily. For this, you have to run these features by pressing the Command + Spacebar from your keyboard.
Quick Look
Quick Look is another minor but most useful feature that I got on Mac. This feature lets the users take a look at a preview of any files or folders there. From these features, you can take a look at the preview of the file when you are from the Finder or the Desktop on Mac.
To get these features on you can simply hit the Spacebar. After that, you can simply search for the file name and get the preview before opening it.
Handoff and Universal
The best feature of the Mac or Apple ecosystem is the handoff. Yes, you can easily go to the next step after doing something there. Here I mean, you can fully enjoy the benefits of the Apple ecosystem in your macOS.
It has continuity features through which you can complete the task from another apple device easily. In clear, the Apple ecosystem lets the users hand off incomplete and complete tasks easily from another apple device.
For example, if you are creating the presentation using your MacBook and drafting it then you can simply continue the same draft from your iPhone easily. Due to its Continuity features, you can easily and effortlessly control your tasks.
Conclusion
Apple always tries to maintain the best features for its users. Getting the quick and optimized features on Apple is more possible than the Windows. Due to its cool and attractive features, people prefer to go for it. Here we can get the number of inbuilt features in Mac that we don't need to go outer enough and third-party apps to get the work done.
Also, its ecosystem made it easy for every user to get control over the tasks. Similarly, you can get a better software and hardware combination that makes it better to go for it.