Android
Galaxy Buds 2 Pro Review: Improved ANC with Great Sound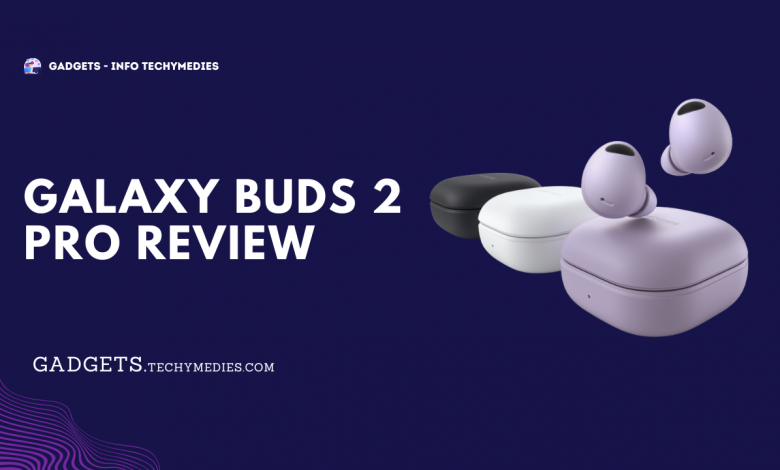 With an improved ANC, Samsung has launched another wireless product on the Market. With its wireless earbuds, we can get better and great sound compared to its previous ones. Here are the specs and review of Galaxy Buds 2 Pro.
Galaxy Buds 2 pro features significant features with an improvement in its design which is a perfect fit for all smartphone users. Galaxy Buds 2 Pro has Improved Active Noise Cancellation (ANC) features.
So, compared to the previous Galaxy Buds Pro, we can notice many changes. Its Version 2.0 allows it to deliver the best effect on Active Noise Cancellation.
Galaxy Buds 2 Pro: Pros & Cons
This new improved Galaxy Earbud features a lot of Pros and Cons. Here we can notice some changes in its sound and ANC.
Buds 2 Pro comes with the Great Sound compared to the last year's Buds Pro. Also, we can notice a clear improvement in its ANC.
While we can also find out some limitations of the Samsung – exclusive features, degradation in battery life, latency, etc.
Pros
Bigger and Great Sound Quality
Improved Active Noise Cancellation (ANC)
Master Fit
Cons
Limitations of Samsung Exclusive Features
Battery Life's not Optimized
Call Quality Diminished
Minor Issues
It's Design
If we compare the physical outlook, we can't notice enough difference. Similar to Galaxy Buds Pro, this New Buds 2 Pro also looks the same in design. At the same time, there are notable changes in size. With the same design and shape, the new version is quite small, maybe not differentiable.
Also, The soft design with the premium finish makes you go for it. Here we get the fingerprint magnet placed on the side to control the media and phone calls.
Similarly, the Sensitivity features also work fine. Its effective touch control makes it easy to adjust and take control over there.
Software and Features
One can easily access and control the Earbuds through the Galaxy Wearable App. So, it's easy for Android users to take control and access the earbuds. But still, iOS users need to compromise on these features.
From the Galaxy Wearable App, you can take control of all your Galaxy Earbuds 2 Pro features. It shows the battery percentage, noise control, ANC Mode, and other features we can change.
It's Sound Quality
The sound quality of these earbuds is really impressive. No doubt, Samsung has improved its sound quality, giving every user the best experience. Its sound quality is one of the best earbuds under its budget.
Also, the bass of the Earbuds is good. Here Galaxy has combined a 10mm woofer for the low-end and a 5.3mm tweeter for making the sound balance. Likewise, an upgraded audio Quality of 24-bit/48KHz HI-Fi makes it possible to produce the sound in a better range. Besides, the ANC features make it one of the best earbuds of 2022.
Battery Life
The non-stop 5 hours backup is still okay. But it's the same as Previous Earbuds, and it means no change/ improvement in its listening hours. Still, Samsung promises to deliver the sound for 5 hours at a time in ANC-enabled mode.
Similarly, you can last this battery backup for additional 18 hours with its ports. It's one of the compatible earbuds by Samsung for Flagship users.
Calling Quality
We can't notice enough improvement in its call quality. Its competitors, Like AirPods Pro, are fully optimized for Calling. But this new/upgraded version of the Previous Galaxy Buds Pro is still not optimized for a better calling experience.
Its notable features, ANC can't improve it much more. We can notice the background noise in phone calls. Also, the distractions didn't get much better while you were on a phone call.
Although the Galaxy has launched its new Earbuds, they still need to be improved. At last, you get an option to activate ambient sound during phone calls.
Touch Controls
The touch controls make fit adjustments tricky. The new Galaxy Earbuds 2 Pro is improved for its touch and sensors. But again, we can't notice such a huge change in it.
Sometimes it's annoying to touch controls while adjusting the earbuds. However, these earbuds fit well for all the age groups you need to perform.
Conclusion
In the 2022 update, we can't notice a huge change and improvement in this Galaxy Buds 2 Pro. But the massive improvement made to its sound quality, ANC, makes it one of the best gadgets for your smartphone.
Also, we notice the improvement in Active Noise Cancellation, Bigger Sound and Fits for everyone.